Crawler Mini Skid Steer Loader
Manufacturer and Supplier
Welcome to view this page. For everything related to crawler mini skid steer loaders, you can find the answer here. We are also happy to answer any questions you may have.
Crawler Mini Skid Steer Loader
HIXEN is the leading crawler mini skid steer loader manufacturer and wholesale supplier in China. Our compact skid steer loader model range from 1 ton to 1.5 ton, and engines could satisfy the EPA Tier4 and EURO5 emission standard. No matter whether you are looking for a reliable skid steer loader supplier or need custom-made loader machines, we can all help. We are ready to provide the suitable suggestions anytime. 
Featured Crawler Mini Skid Steer Loaders List
At HIXEN, you will find the most cost-effective mini skid steer loaders with optimal performance for a wide range of applications. Our compact skid steer loaders are widely used in landscaping, trenching, excavating, snow clearing, etc. We mainly have 4 models as listed below, kindly please check and select the one you are interested in.  If any questions, kindly please click the button and ask for a free suggestion.
HN25 Crawler Mini Skid Steer Loader
Engine

Kubota D1105//18.5KW

Dimension

1976*1104*1352mm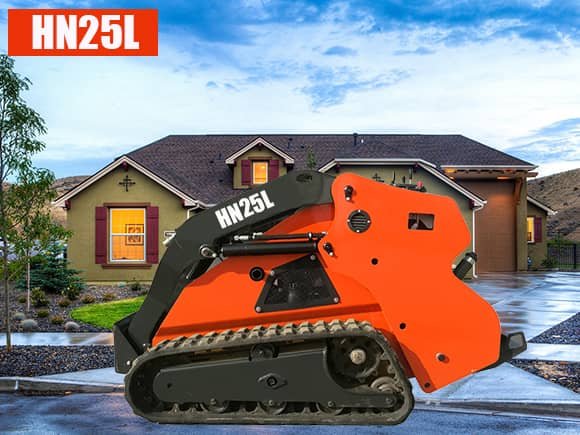 HN25L Crawler Mini Skid Steer Loader
Engine

Kubota D1105//18.5KW

Dimension

2020*1000*1130mm
HN30 Crawler Mini Skid Steer Loader
Engine

Yanmar 3TNV82A/22.2KW

Dimension

1942*1050*1257mm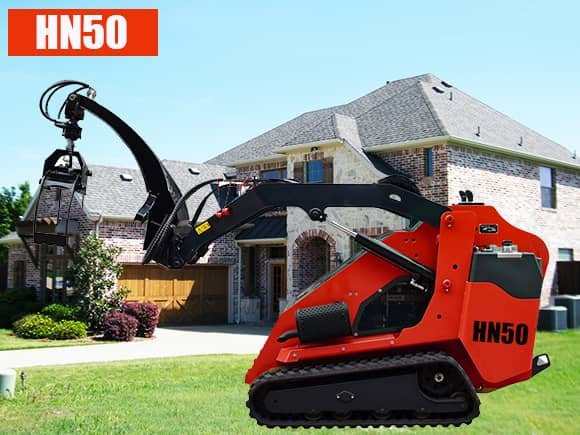 HN50 Crawler Mini Skid Steer Loader
Engine

Perkins 404D-22/35.7KW

Dimension

2202*1100*1505mm
Download Full Catalog to View More Products
Download our catalog for an overview of all of our current product offerings, including features and benefits, specifications, performances, details, and designs. Or you can ask us directly about our mini skid steer loaders.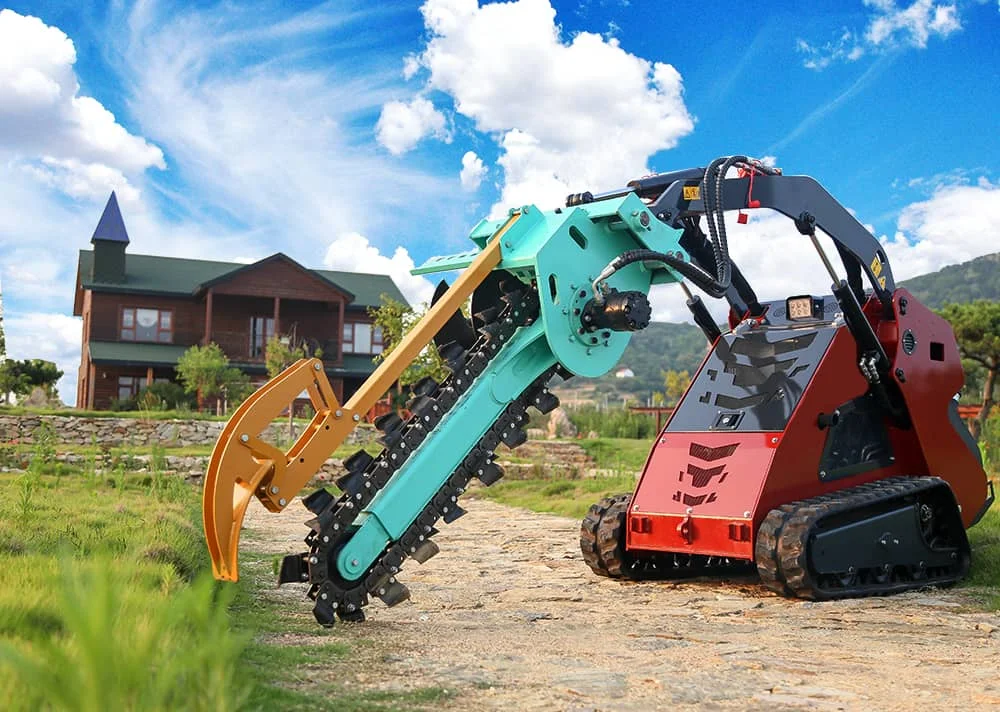 Applications of Compact Skid Steer Loaders
The compact crawler skid steer loader is of great importance in the modern world. Tight in the whole body, it has enjoyed popularity in many fields saving labor costs and time. Below list is some of the typical fields in which the mini skid steer loader is having an important role. 
Great Features of Mini Skid Steer Loader
Mini skid steer loaders could maximize your versatility in preparing sites and moving landscaping materials. HIXEN compact crawler skid steers rated operating capacities from 1060KG to 1590KG,  work comfortably in tight spaces and are easy to be transported by trailers. Here we summarize some of the main features, you can also click the button to ask more from us. 
A Brief Self-Nomination, Why Choose HIXEN Skid Steer Loader
Since the year of 2009, we started manufacturing mini skid steer loaders. Over the years, we have supplied to over 30 countries including our domestic market. We insist the continues innovation and try to deliver not only reliable qualified products but also the value of helping clients enjoy a  better life. Now all the attachments are made by ourselves, catering to different working conditions and environment.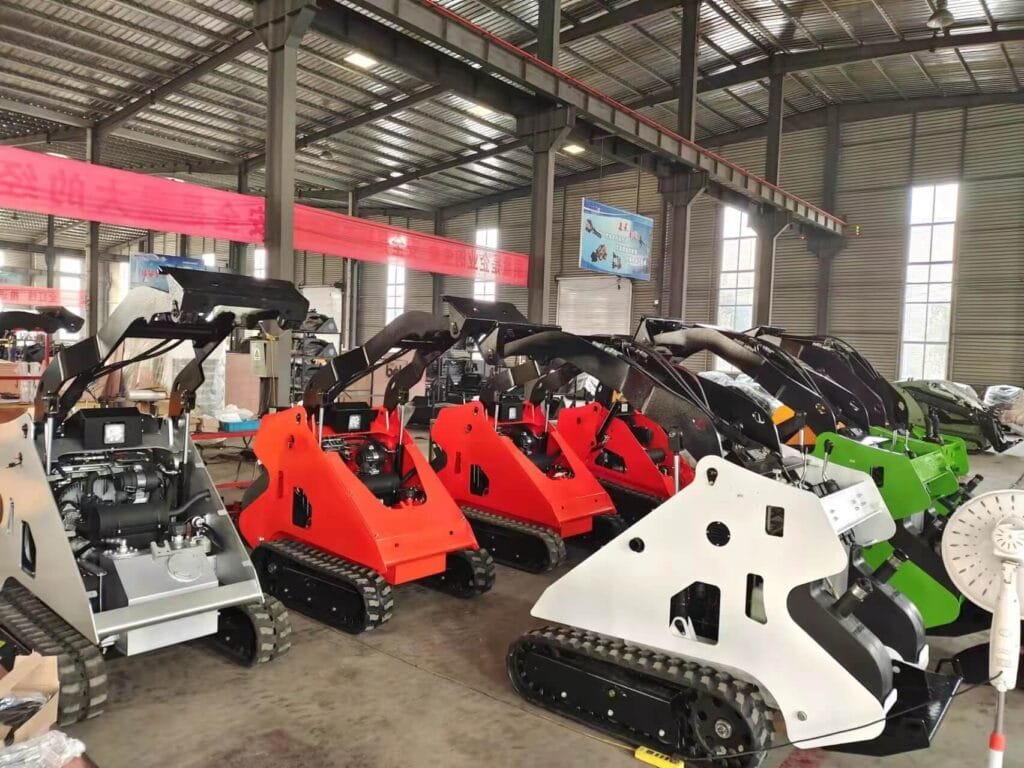 Customer-Focused: We offer application-specific solutions through bespoke products that fully fit the needs of our customers.
Technology-driven: We focus on the latest technology and advanced production management, ensuring the products are built to satisfy current and future demands. 
Responsibility:  We are in charge of each product coming from our factory. Your payment will be safe, and your after-sales problems will be guaranteed. 
We are happy to answer any questions you may have about our products and company.
How To Buy Mini Crawler Skid Steer Loader - A Complete Buyer's Guide
Mini crawler skid steer loader, also known as mini track loader, can be seen on every construction job site. This equipment helps you complete several jobs due to its versatile nature.
What Are Crawler Mini Skid Steer Loader?
A crawler mini skid steer loader is a small-sized skid steer loader that helps perform different on-site jobs. It is equipped with tracks or crawlers with a compact body. With two lifting arms on each side of the mini crawler skid steer loader, it has an amazing metal structure. People could only stand behind the body to operate for multiple tasks. The small size of a skid steer loader makes it ideal for tight spaces.
Benefits of Using A Crawler Mini Skid Steer Loader
Versatility – When it comes to mini skid steer loaders, the first impression on our mind is their versatility. Actually, this compact skid steer loader machine is recognized by everyone is because of its ability to attach many kinds of tools. Such as breaking hammer, auger, brush bucket, grapple, forks, road sweepers etc, all could be attached to this kind of mini equipment to fulfill different tasks. Their versatility paired with their smaller size makes them a unique compact household machine. 
Performance –Mini skid steer loaders are known for delivering a great performance that is consistent, so you will get to take advantage of this benefit. Though the whole body is a tight design, they can achieve great performance through the hydraulic system. 
Economic –As for consumption, the mini skid steers also give us a great answer. Such as our HN25 model, the engine power is 18.5kw while the displacement is only around 1.6L/H. That means a lot for our total cost considering the work capacity. 
Efficient –The mini skid steer loader could always complete most jobs at great efficiency. Because of their compact design and strong engine power, most jobs could be finished with the help of them in an efficient way. 
Durable –Compared with other machines such as mini excavators, compact skid steers are also incredibly durable, especially when it comes to working for continuous time.  You can expect your new mini skid steer loader to last for a longer time. This will save you the hassle of having to send them for repair or change spare parts regularly. 
Flexible–The last but not least feature is that t

hey can rotate 360 degrees in the same place. It is especially suitable for strictly confined places such as the cabin of one ship. 
What Are Different Types of Skid Steer Loaders?
According to the engine type
Gasoline engine skid steer loader
Diesel engine skid steer loader
According to the machine size
Mini or Compact Skid Steer Loader
Cabin or Conventional Skid Steer Loader
According to walking method
Crawler or Track Skid Steer Loader
Wheel or Wheeled Skid Steer Loader
Applications Where Crawler Mini Skid Steer Loader Used?
As you may know, mini skid steer loaders also contain multiple applications, like mini excavators. You can do various tasks at your construction site using this compact construction equipment. But this highly versatile skid steer loader machine can do multiple jobs only through the help of different attachments. Some of the typical applications are listed as below
Wood chipping
Tree spading
Trench digging
Stump grinding
Materials transportation or handling
Property or site development
Underground construction
Leveling or earthmoving
Interior demolition
Post-hole digging
Debris removal
Heavy lifting, etc
Factors To Consider Before Buying A Mini Skid Steer Loader
You will likely want to pay attention to the dimensions of your chosen skid steer loader, as these will help you decide how well it can fit your work. The dimensions can also give you an idea of how the work could be finished and how will you transport this compact loader machine. If your working space is very tight, such as inside the ship cabin, this mini skid steer loader could be the ideal option. And each manufacturer have the specific dimension of their different models. 
Engine power could be the most important factor to consider when deciding which skid steer loader to choose. If too small, the engine will not be powered enough to complete the jobs. Meanwhile, there could some waste if the engine power is too big. Also, the cost of the machine is depending on engine power so we have to take this point into most important consideration. 
3. Versatility of the components
For the construction machine operator or owner, the most concerning problem is whether they could find the parts or components easily locally when facing an equipment breakdown. So before buying a mini skid steer loader, you must consider the machine's components' versatility. 
If you find most components or parts in this skid steer loader are the common ones that are quite easy to get, then don't hesitate to choose on the condition that it is the same price and configuration as others. 
Before choosing a compact skid steer loader, you should be clear about what kind of attachments it could be attached. Just as described above, select some of them according to your actual work. Of you can take some advice from the machine suppliers. Only with the right attached tools, the skid steers could reach their utmost utilization.
How to Choose Tracked Mini Skid Steer Loaders
As with any other type of construction machine, you should always take time to make a plan for your specific work or investigate your local market if you intend to wholesale the crawler mini skid steer loader from the manufacturers. 
2. Search For The Right Supplier
If you don't have much experience in purchasing a mini skid steer loader, especially importing the crawler mini skid steer loader from China, that can be a great challenge. Luckily, with the help of the internet, you can search the manufacturer or suppliers easily on Google or even some other trading websites such as Alibaba or Made-in-China.  
Input the keywords, try the select the ones ranking top list, and contact the skid steer loader wholesalers or suppliers. Or you can ask for friend for some information. 
3. Negotiation and Sign Contract
Once find the supplier, communicate with them for all the machine details including size, engine power, emission standard, working load, machine weight, price, production, package, delivery, etc. Every detail should be 100% clear so that you can sign a contract with them. 
Surely, price negotiation is an important process. Always try to ask for some discount from the mini skid steer loader manufacturers or suppliers. But don't pay attention only to price, taking all the factors into consideration is a wise choice. 
How to guarantee the safety of our payment is the most important issue that is concerned. Especially when it comes to importing a crawler mini skid steer loader from China, be cautious of the cheaters among the genuine suppliers. 
As for payment methods, wire transfer or T/T seems to be the most common and fast way. Meanwhile, L/C as another safe and old method is still playing an important role. 
5. Production and Delivery
When the above process is finished, the next is to supervise the production and delivery of your ordered skid steer loaders. The half-made product images or videos are the best options if you can not visit the production site. Keep all the process tracked if the goods need long-term shipping. 
Why Choose HIXEN for A Crawler Mini Skid Steer Loader
HIXEN is made up of experienced engineers known for construction machine manufacturing of the highest quality. The company has got CE certified and also has EPA Tier4 and Euro5 emission standard certifications for its products. For a further focus on quality, HIXEN adopts a very strict testing and commission before the products delivered. 
Excellent technical support services
13 years of experience
Skilled staff consisting of 110+ members
Exported to more than 30 countries.
Over 2000 sets machines output per year 
Skid steer loader has more advanced functions than other construction types of equipment. But it also depends on the fact of which manufacturer to choose. Contact us now and get your quote to purchase a skid steer loader or its required attachments.