Wheeled Skid Steer Loader
We provide reliable wheeled skid steer loaders for industry-leading quality at affordable prices. The full lineup of the different models is listed here. All the components or spare parts are versatile where you can replace them easily whenever you meet any problems.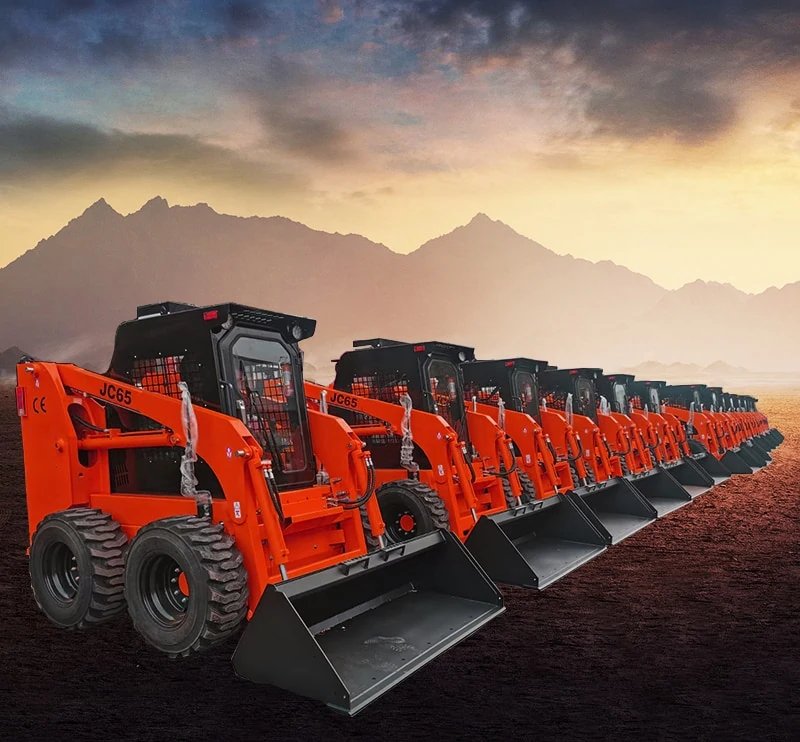 Wheeled Skid Steers Supplier
HIXEN is one of  China leading skid steer loader suppliers. Our skid steers range from 1300KG to 3600KG, and loading capacity range from 380KG to 1200KG. Some models could also meet the EPA Tier4 and EURO5 emission standards. We are ready to assist if you are looking for a reliable supplier of skid steers or need custom-made wheeled skid steer loaders. You can click and view our product list here. Or ask for the catalog directly. 
At HIXEN, you can find each wheeled skid steer loader is built with high precision. Designed with a tight and compact body, the skid steer could always achieve the most durability and efficiency. When you step inside the cabin, you'll see the latest improvements in the operating system. Also, all the tired skid steers now could deliver better productivity through their high working efficiency and high walking speed. 
JC25 Wheeled Skid Skeer Loader
Overall Dimension
2950*1070*1813mm
JC35 Wheeled Skid Skeer Loader
Overall Dimension
2950*1400*2000mm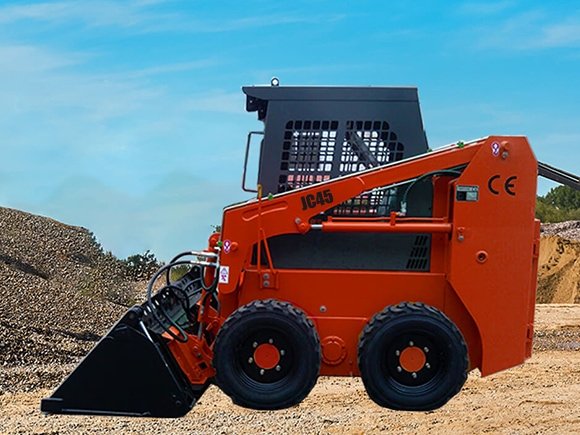 JC45 Wheeled Skid Skeer Loader
Overall Dimension
3420*1740*2140mm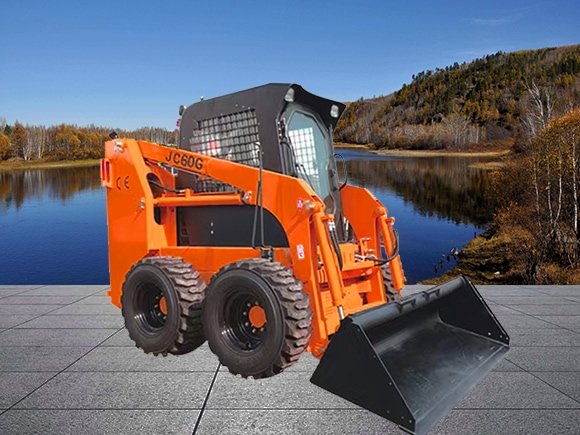 JC60 Wheeled Skid Skeer Loader
Overall Dimension
3490*1880*2160mm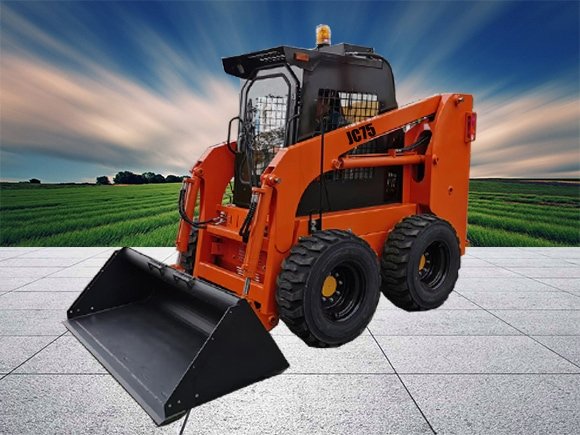 JC75 Wheeled Skid Skeer Loader
Overall Dimension
3580*1880*2160mm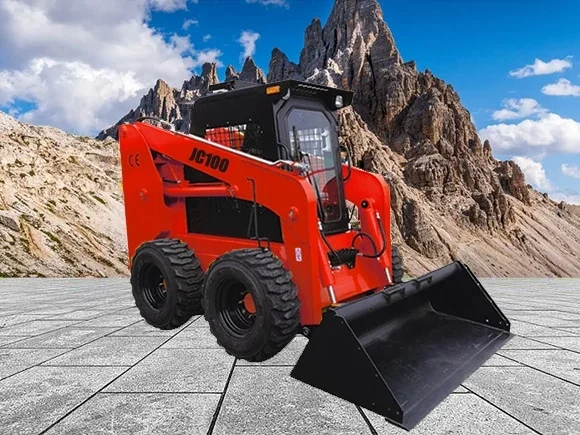 JC100 Wheeled Skid Skeer Loader
Overall Dimension
3580x1880x2160mm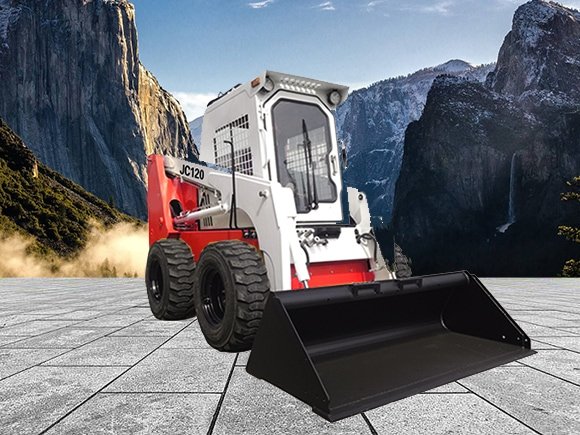 JC120 Wheeled Skid Skeer Loader
Overall Dimension
3580x1880x2160mm
Download Full Catalog to View More Products
Download our current catalog for an overview of all of our current product offerings, including features and benefits, specifications, ratings, warranties, among other things. Opt for the paperless version to save money and the environment.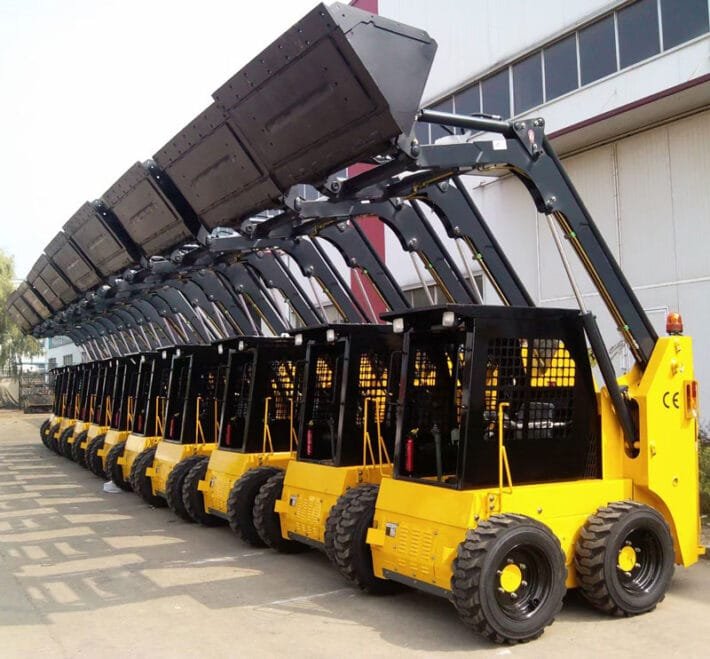 Why Choose Skid Steers From Us
We HIXEN have been focusing on skid steers for over 13 years. the products have been supplied to over 30 countries. With the CE certificate, and got EPA Tier4 and EURO5 emission certified, our products have enjoyed a great reputation. Each requirement will be highly replied. 
The Tools Could Be Attached
LED Linear Facade Lightings are high-end LED lighting products that are structurally built to improve the overall appearance of your building's facade. They are used to highlight architectural details and illuminate landscape features, giving your company the greatest potential appearance.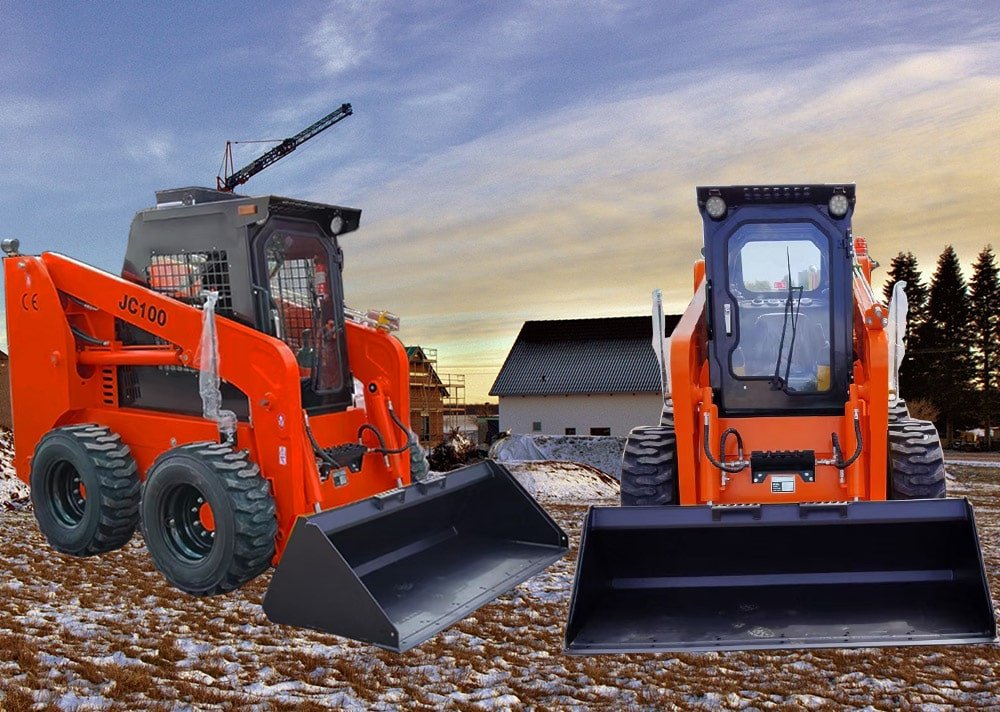 We are happy to answer any questions you may have about our products and company.
How To Buy Skid Steer Loaders - A Complete Buyer's Guide
It is important to note that modern skid steer loaders built and designed since the 1970s use two independent hydrostatic transmissions. Skid steer loaders, like micro diggers or excavators, are used for multiple purposes. It is a lightweight and maneuverable machine with different attachments.
What Are Wheeled Skid Steer Loaders?
A wheeled skid steer loader is also known as a skid steer, SSL, or skid loader which is driven by four wheels and there is a cabin where the operator sits inside. It is a rigid-frame, small, engine-powered machine equipped with lift arms. You lift the arms of skid steer loaders with multiple attachments to complete different jobs. A skid steer loader may consist of two tracks or four wheels to run on the ground.
Applications Of Wheeled Skid Steer Loaders
As we may know, wheeled skid steer loaders also contain multiple applications such as digging, trenching, landscaping and material, etc. You can do various tasks at your site using this construction equipment. Actually, through the help of different attachments,  this highly versatile machine can do multiple jobs. Here we list some of the typical cases. 
Landscaping
Skid steers are good at landscaping tasks, and you can also earn profit by performing landscaping tasks. Some tasks that come under the landscaping category are:
Wood chipping
Tree spading
Trench digging
Stump grinding
Using bale spears and white pallet forks, you can also use them for farm work and warehouse tasks.
Excavation & Construction
Sometimes, it is tricky to choose the right equipment for excavation projects. But skid steers make it easy for you to perform excavation. However, it is important to remember that you must choose the right attachment to perform any job. Ripper, tiller, wheel saw, and trencher can be your best attachments.
Skid steers can fit easily with cement mixers and pavement millers. But make sure you choose the right weight and size. The machine may fluctuate on choosing an attachment larger than the required size or weight.
Trenching & Digging
Trenching and digging are the two most important applications of skid steers. It also contains attachments that are suitable for trenching and digging purposes. For example:
Auger
Trench Digger
Backhoe
Clearing Snow
It is the least important application of skid steers. If you want to shovel the pesky snow from your driveway, You must consider a few things listed below:
Use a snow blade attachment or snow bowler
Do it with care and proper training.
The Benefits Of Using A Wheeled Skid Steer Loader
The wheeled skid steer loader is a versatile machine that can perform multiple tasks as described above. There are quite a lot of tools that could be attached to help us on the construction site.
Its turning radius could be much short so it is flexible to work in tight spaces, where the bigger machines are confined. 
With the right attachment, the skid steers could finish the work with high efficiency. It can high save our labor costs and save much time to shorten the construction work period. 
Wheeled skid steers can work perfectly on asphalt or concrete surfaces, unlike tracked skid steers. They have the ability to move faster on these types of surfaces. Therefore, you can cover more ground in less time by using the wheeled SSLs.
Wheeled skid steer loaders are capable of working on landscape surfaces in a much better way. The best part about them is that they are easier to maintain than tracked SSLs.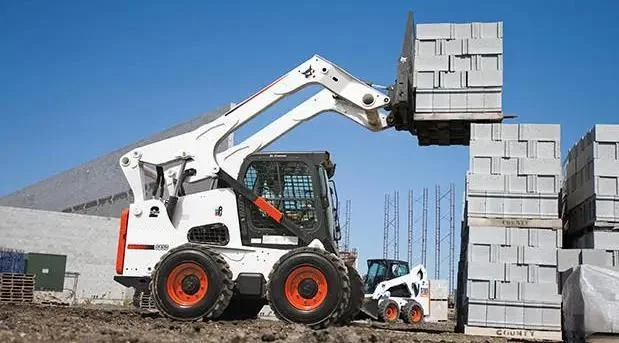 How to Choose The Right Wheeled Skid Steer Loaders?
You will likely want to pay attention to the dimensions of your chosen skid steers, as these will help you decide how well they can fit into your chosen space. The dimensions can also give you an idea of the space of the working site.
And when you decide to buy a skid steer loader, you should always consider the package and delivery, which is mostly decided by its dimension. 
The weight of the skid steers usually determines the stability of the whole body, and also the transportation. What's more, the rated load is an important performance indicator, that is much relying on the machine's total weight. 
Engine power could be the most important factor to consider when deciding which skid steer loader to choose. Also, the cost of the machine is depending on engine power so we have to take this point into consideration.
Meanwhile, we should pay attention to the emission standard of our local government policy. Such as the US and Canada will require the engine must comply with EPA Tier 4. European countries will require EURO5 certification. 
One more point is the brand of engines and their influence globally. It should be easy to find the spare parts.
4. Attachments Availablity
Before choosing a wheeled skid steer loader, you should be clear about what kind of attachments it could be attached. Just as described above, select some of them according to your actual work. Or you can take some advice from the machine suppliers. Only with the right attached tools, the skid steers could reach their utmost utilization.
How To Buy A Wheeled Skid Steer Loader From China
When you have the idea to buy a wheel skid steer loader, try all the sources to study this versatile construction machine. Then make a plan about your budget, usage and others.  
2. Search For The Right Supplier
If you don't have much experience in purchasing a mini skid steer loader, especially importing the crawler mini skid steer loader from China, that can be a great challenge. Luckily, with the help of the internet, you can search the manufacturer or suppliers easily on Google or even some other trading websites such as 
Alibaba
 or 
Made-in-China
. Input the keywords, try the select the ones ranking top list, and contact the skid steer loader wholesalers or suppliers. Or you can ask for friend for some information.
3. Make Clear All Details
Once find the supplier, communicate with them for all the machine details including size, engine power, emission standard, working load, machine weight, price, production, package, delivery, etc. Every detail should be 100% clear so that you can sign a contract with them. 
Surely, price negotiation is an important process. Always try to ask for some discount from the mini skid steer loader manufacturers or suppliers. But don't pay attention only to price, taking all the factors into consideration is a wise choice.
When it comes to payment transactions between countries, the fastest and safe way is by wire transfer or we call it T/T. Also, there is another safe way is through a Letter of Credit which requires a lot of paperwork. 
What you should pay 100% attention to is the safety of your payment. Finding a reliable skid steers supplier is an important thing. 
5. Production and Package
After your payment, the manufacturers will start production. Try to ask for images or videos during this process. Before delivery, you should check the basic performance of the machine, ensuring you will receive what you expected. 
Before delivery, you must make it clear all the import procedures. It is strongly suggested to find a broker or shipping agent who could deal with customs clearance and other related issues. Also, you can require the manufacturer or supplier to assist with all the issues since they have a lot of experience.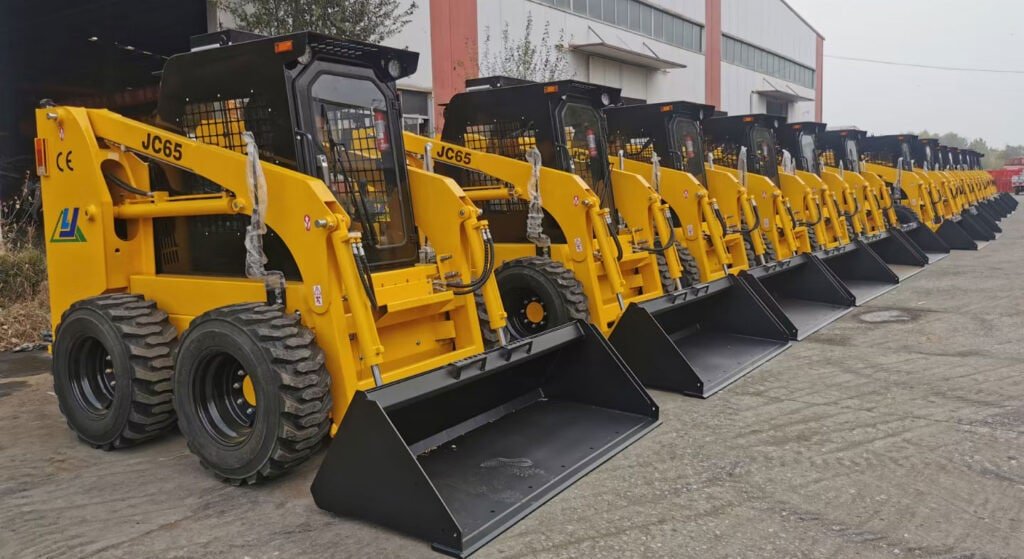 Why Choose HIXEN For Skid Steer Loaders?
We make sure your payment transferred to us is 100% safe. No need to worry about the security of your payment anymore, since you can send the payment to our appointed account. Just need to confirm once again before the transaction by email and mobile or WhatsApp. 
The product quality can be guaranteed. We have to admit that there are too many cheating suppliers who provide a very low price regardless of the product quality. There is no need to worry about this point if you choose to buy skid steer loaders from us. We will be responsible for each product coming from us. 
We keep the words. As we know, importing skid steers from another country is not an easy job. After we confirm the order, we will strictly follow the technical details and also the delivery period. \
With 13 years of experience, we are good at package and shipping issues. If you are the first time to import goods from China, we can help you deal with every detail. The skid steers could be delivered to your house directly even. 
We have an all-around after-sales service system. Whenever you meet a problem even beyond the warranty, our technical team could also provide you the best solutions for you.