Introduction
The skid steer loader has been among the most widely used heavy equipment since its introduction in the 1950s. These versatile machines can easily perform loading, material management, earthmoving, and trench digging due to their agility and adaptability. Skid steers are extremely flexible machines because of their compact size and maneuverability.
They are multi-purpose, easy-to-operate machines that excel in several areas at once. Renting is a great way to supplement your current fleet in peak demand and cover maintenance gaps and short-term needs. To choose the best skid steer size, it is important to think about your specific needs.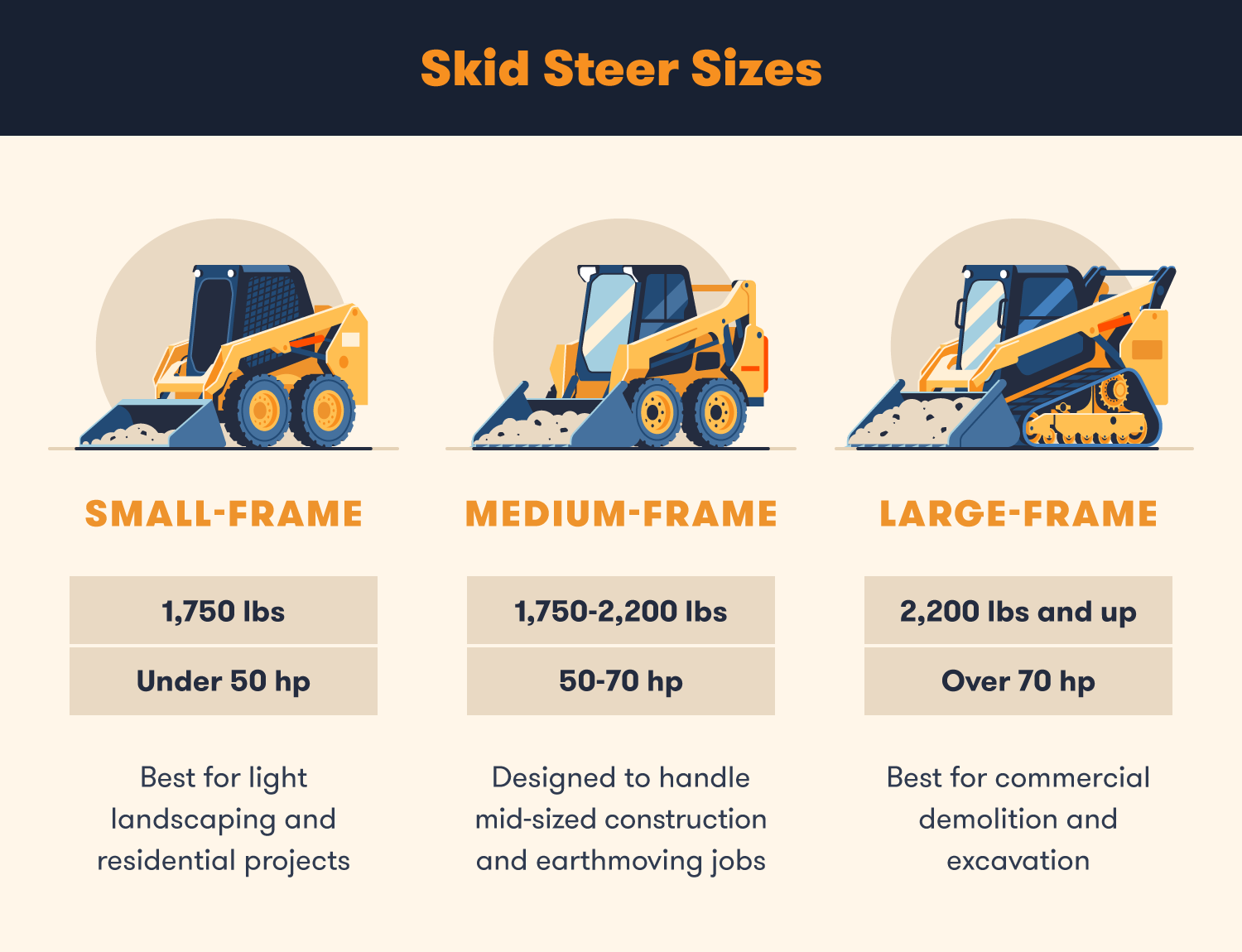 Which Industries Use Skid Loaders?
Some common fields where skid steer loaders are used are discussed below.
Construction: Skid loaders are one of the most versatile tools available. They are capable of doing landscaping, cleaning, and trench digging. These loaders have a wide range of applications, from landscaping to material management. Skid loaders have a wide range of applications, from landscaping to material management.
Excavating: Large skid loaders are ideal for trenching and grading terrain. Road construction and foundation laying both benefit greatly from their use. Skid loaders allow for the rapid and effective removal of large quantities of soil and other materials. They allow for the rapid and effective removal of large quantities of soil and other materials.
Digging and trenching: Skid loaders are incredibly useful for a variety of digging and trenching tasks. They are adaptable due to the variety of attachments available, including backhoes, augers, and trenchers. We can cut roots, pave, and drain with the right tool.
Municipal work: With their versatility, skid loaders are perfect for municipal work. The most common use of skid loaders during the winter is to remove snow.
Why Should We Choose the Right Skid Steer Size?
Choosing the right skid steer size is important to perform the jobs effectively. Let's suppose that we have a large skid loader, but our targeted area is small. We would not be able to perform the job with a large skid loader effectively. Therefore, we must choose a small-sized skid loader that can fit into tight spaces without any complications.
Let's check out some factors that play a big role when choosing the right skid steer size.
What Factors to Consider When Choosing the Right Skid Steer Size?
Consider What Skid Steer Size Will Get the Job Done Efficiently
It's possible to find skid steer loaders ranging in weight from just under 1,500 pounds to well over 3,500 pounds. Skid steers come in different sizes to accommodate a wide range of tasks and terrains. Evaluate how big of a space you'll need for your project. Consider its dimensions and whether your site has open space for a large machine that makes a smaller unit smarter.
Using a compact skid steer on a vast job site would waste time. Furthermore, large skid steers might be difficult to maneuver in confined areas. It will reduce productivity compared to a more manageable size. Demolition work within buildings is best done with small-frame skid steers because they are easily maneuverable through doorways and hallways.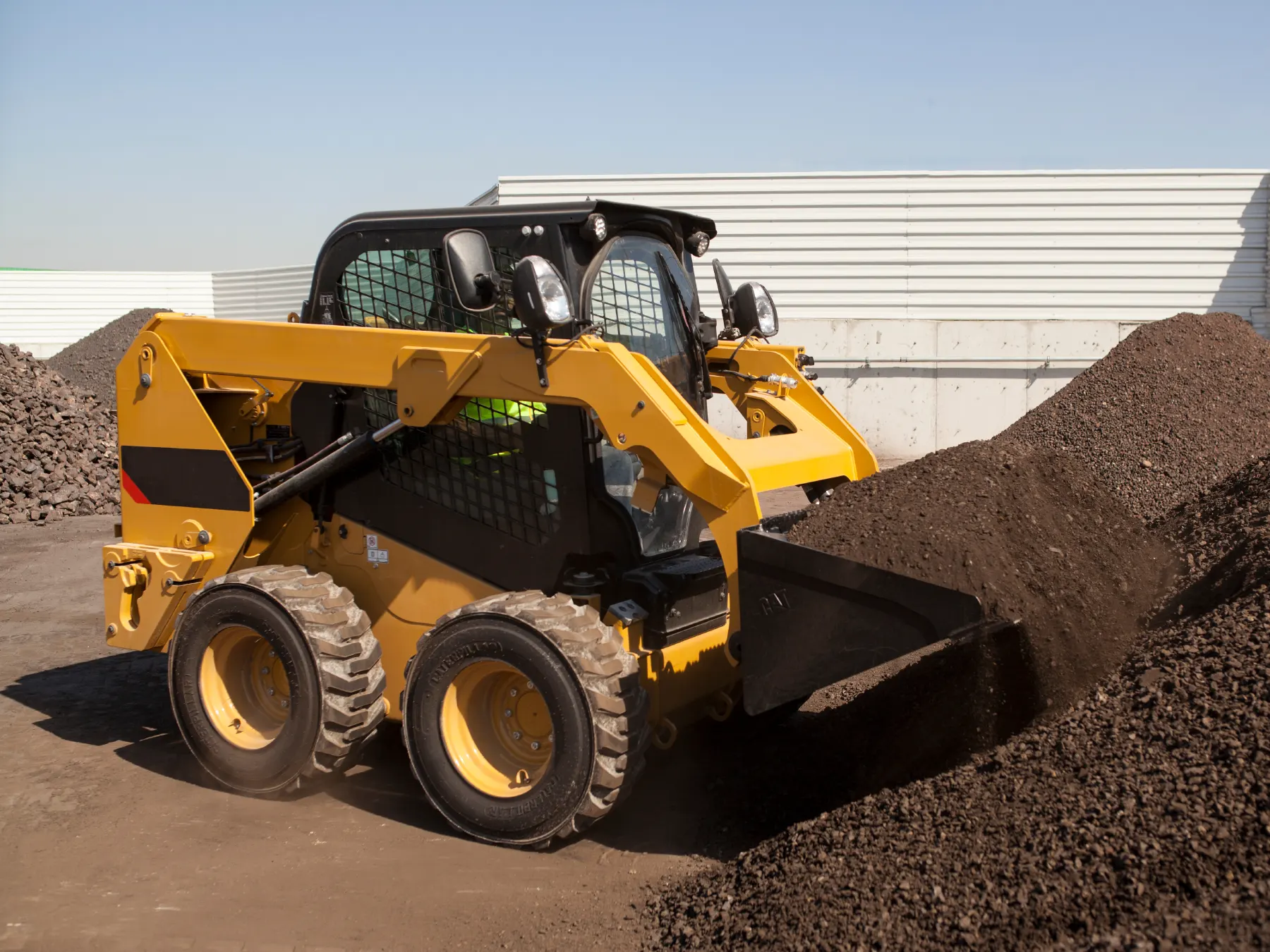 If you need to get a lot done, it's best to use a bigger and stronger machine. When breaking down brick walls, more force is available from the medium skid steer. For instance, while still being compact enough to squeeze through doors that would be too narrow for a larger machine. Lifting heavy items for a small skid steer loader would be no problem for a large skid steer loader.
Think About Your Job Surface
Some compact wheel loaders are better suited to certain terrains than others. Miniature wheel loaders are most effective on level, solid ground. They are helpless in the face of rough terrains, such as rocks, soft mud, or steep hills. Moreover, compact track loaders can work on these terrains with no problems.
Instead of getting bogged down in tough terrain as wheels do, the tracks just skim right over it. This makes them ideal for traversing sand, snow, and other obstacles. Additionally, wet ground is no match for a track loader. In regions prone to thunderstorms, they can keep working as much as possible despite the weather.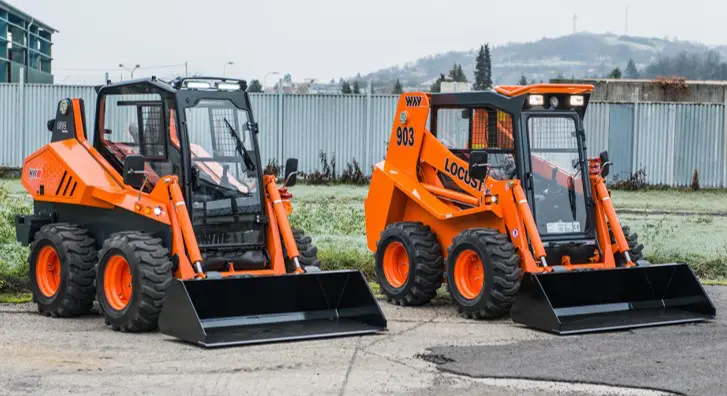 While tracks offer greater flexibility, they aren't always the most sensible option. The rubber track parts wear out on hard surfaces much faster than the wheels. The cost to replace a set of tracks is higher as well. This is just one reason why it costs more to maintain compact track loaders than wheeled units. Especially if you're a renter, you might not give this amenity much thought.
Despite this, these expenses are factored into the prices of compact track loaders offered for rent. If you're only going to be working on level ground, there's no point in springing for a compact track loader. Before deciding on a skid steer loader, it's important to take into account the terrain of the job site.
Assess the Lift
Skid steers have vertical and radial lifts. Each lift type has pros and cons. Vertical lift skid steers can reach high, inconvenient places. This skid steer has more reach than radial lifts. So, it's the best skid steer for unloading trucks and moving pallets.
If the majority of the work you do is at eye level or higher. A skid steer equipped with a vertical lift is the most productive tool you can use. This tool is perfect if you're building a house or planting trees in a park.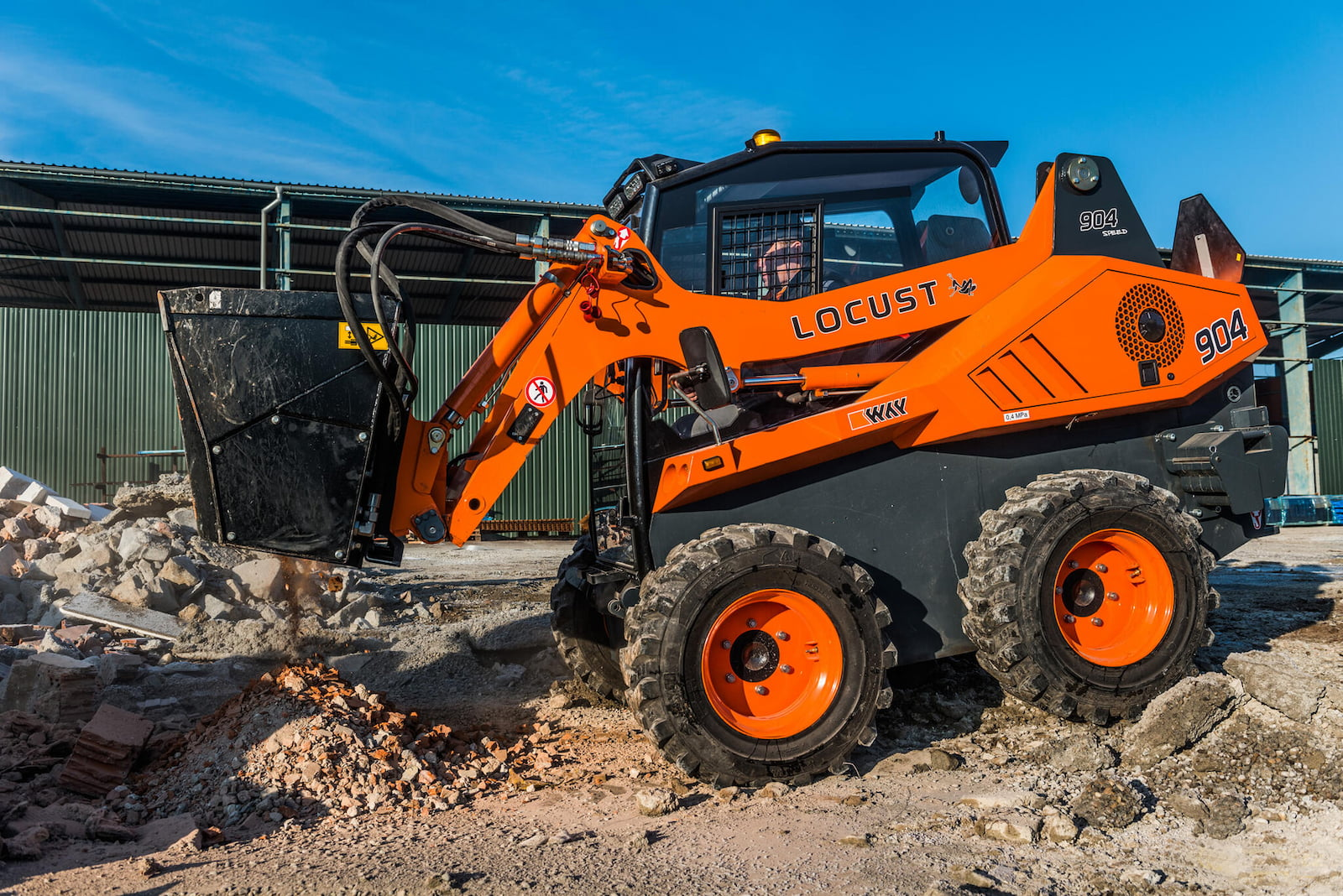 Assess Other Functional Features
Several skid steers have features that make them operate differently from others for rent. These additional features may aid in making your decision by making it clearer. Some models have lights, making them suitable for nighttime use. If you intend to start your workday early or after the sun has set.
These skid steers may be preferred if you want to increase safety. Skid steers with similar sizes have different tire sizes. Tires increase stability and extend reach, especially when tipping a bucket. When performing work on a site that is risky or crowded. Better visibility everywhere could be a big selling point.
Think About Your Skid Steer Attachments
A skid steer's versatility can be increased, which will facilitate your work. Only specific skid steers can deliver the level of power that some attachments demand. A small skid steer can operate a grapple or hydraulic breaker.
However, the power can only be found in big, high-flow machines like wheel saws as well as forestry cutters. Don't automatically rule out a skid steer if it lacks the power you need. Smaller skid steers can have high-flow systems added for better power attachments. You must, however, carefully weigh the price of this power boost.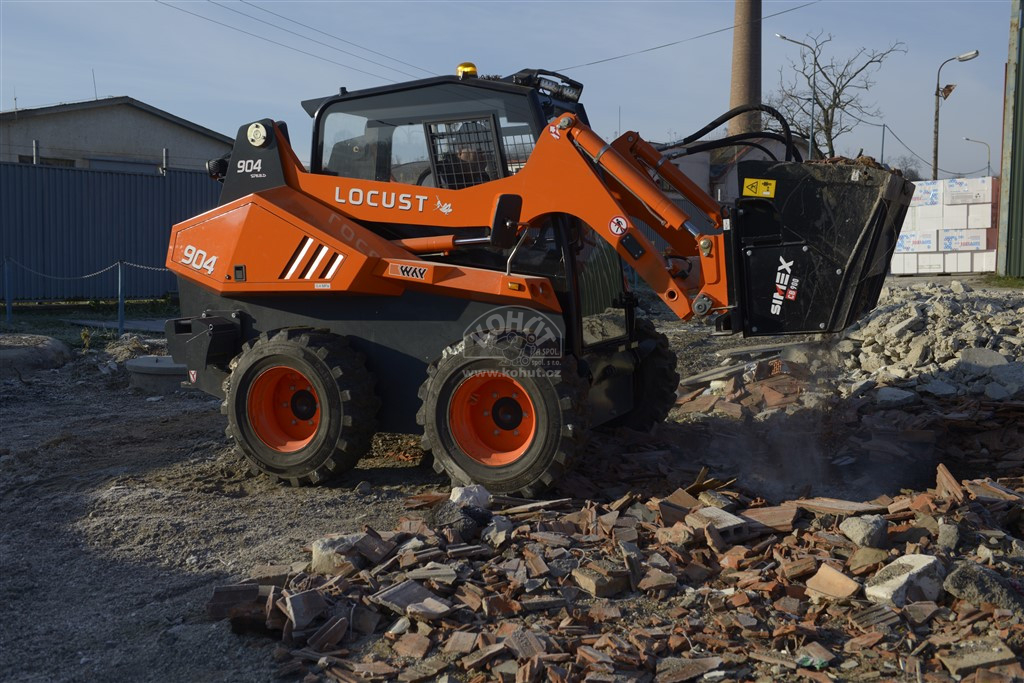 Understand Rated Operating Capacity
Understanding Rated Operating Capacity is very critical in choosing the right machine for the right job. Rated operating capacity is a stability measurement by which skid-steer loaders are rated and compared. ROC is calculated as 50% of the machine's tipping load. Many retailers and manufacturers categorize skid steers based on their ROC.
Different manufacturers and even different operators use different standards. A machine's ROC is the heaviest load it can lift without tipping over. For most machines, horsepower and total operating weight increase as the ROC increases. You'll likely need a larger skid steer if your job requires a high ROC.
Know Your Budget
The scope and scale of a project are affected by the available funds. More money is usually required to purchase a compact track loader than a skid steer of equivalent size. Choose the smallest size that still serves your purposes while staying inside your project's set price range.
Spending less on supplementary tools is possible by selecting a versatile skid steer size. The expense of getting from one place to another is an additional problem that could be fixed. If we require a certain kind of vehicle, will we be able to afford it with our existing funds?
Confirm Site Dimensions and Layout
When choosing a skid steer, consider your site's size and layout. Think about getting a compact skid steer if the work site is full of obstacles and has limited space. Work on-site development includes things like clearing land, performing earthwork, paving roads, and performing general landscaping.
Choose mobile-forward skid steers with radial lifts for operations that don't face major obstacles. The types of groundwork at the core of site development will be perfect for the radial lift. Smaller trailers can be used to transport small-frame skid steers, which also require less storage space.
What Skid Steer Size Ranges are Offered By Different Brands?
Bobat
Skid steer manufacturer Bobcat is well-known. Its sizes vary, from lightweight to compact track. Weight ranges from 5370lb to 9314lb at the rated capacity of 1370 to 3550 pounds and 49-92hp engines.
CASE
CASE skid steers come in all sizes, lift patterns, power, and emissions options. They have the right skid steer for your business among our five radial-lift models and three vertical-lift models. The rated operating capacity is 1300 to 3400 pounds, and the operating weight is 5000 to 9100 pounds with 49-90hp engine power.
CAT
CAT skid steers are powerful and flexible. These are good for heavy lifting. A lack of a wheelbase indicates compact track loaders. Operating weight is 5549–11464 lb with a rated capacity of 1550–3480lb and 67-98 hp engines.
Final Thoughts
Skid steers are diverse, making selection difficult. To make the best choice, think about your job and work location thoroughly. When planning a project, it's important to know in advance how big of a skid steer you'll need. It will impact job efficiency and affordability. We need to give some serious thought to the following.
Find out about the terrain, the maximum load, the fuel efficiency, and the attachments that can be used. Job specifics and available funds are also crucial considerations.
If you need any more info on skid steer dimensions and sizes. Get in touch with us today!